Samsung Vice Chairman Lee Jae-yong will travel to Europe for 12 days in 6 months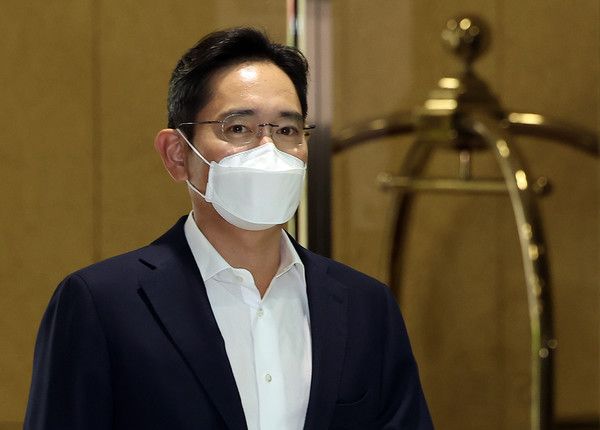 Samsung Electronics Vice Chairman Lee Jae-yong started global field management on a business trip to Europe on the 7th. It has been six months since his business trip to the Middle East last December. It is interpreted as a move to secure 'super-gap strategy' of semiconductors and future growth engines. Vice Chairman Lee is expected to make all-out efforts to final inspections of large-scale mergers and acquisitions (M&A) that have been neglected at the site and secure ultraviolet (EUV) equipment.
Asked by reporters about his business trip schedule and M&A plans at the airport, Vice Chairman Lee briefly replied, "I will have a good trip."
Vice-Chairman Lee has a business trip period of 12 days from this day to the 18th. It is expected to visit the Netherlands, Germany, and France.
The first destination is estimated to be ASML, a Dutch semiconductor equipment manufacturer. ASML is a company that virtually exclusively supplies EUV furnace equipment. EUV equipment manufactures 40-50 units a year at ASML. Samsung Electronics desperately needs EUV equipment to gain an upper hand in competition with Taiwan's TSMC. However, it is known that production is not easy due to recent global supply chain instability. The reason why Vice Chairman Lee visits the Netherlands himself seems to be for smooth supply and demand of equipment. In addition, stable high-performance EUV equipment is very important for the expansion of the Pyeongtaek semiconductor plant and the construction of a semiconductor consignment production plant in Taylor, Texas.
Some predict that M&As related to semiconductors can be inspected in this business trip. Samsung Electronics Vice Chairman Han Jong-hee, who met with reporters after attending the Hoam Award ceremony on the 31st of last month and hinted that M&A was underway, is known to have accompanied him on this business trip, and M&A is expected to accelerate.
Leading candidates include NXP, a Dutch automotive semiconductor company, Infineon, a German automotive semiconductor company, and ARM, a Japanese Softbank semiconductor design company. In particular, it is interpreted that ARM will be related to the meeting between Vice Chairman Lee and Intel CEO Pat Gal Singer last month. Against ARM, there is a possibility that Samsung will join hands with Intel to make joint investments.