samsung
Samsung Kicks Off Game Day With the World's Largest LED Videoboard Ever Built for Sports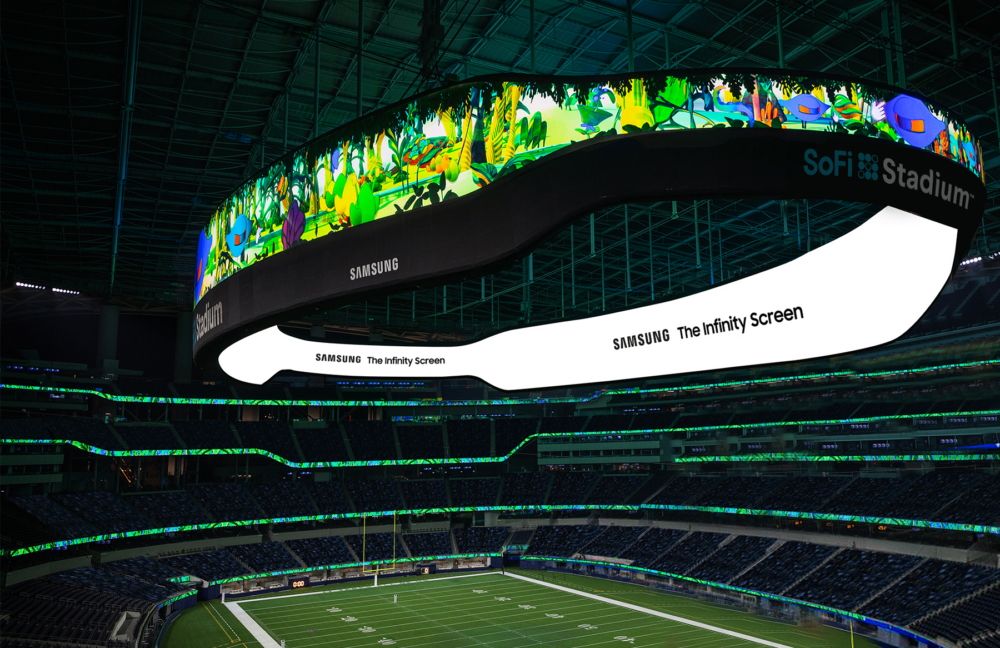 Samsung Electronics recently unveiled the Infinity Screen by Samsung, a brand new, center-hung videoboard at Sofi Stadium in Los Angeles, California, where the 56th US professional football championship will be held this month. The largest videoboard ever created for sports, the Infinity Screen will greet fans as they enter the stadium with its dual-sided, one-of-a-kind design and provide a state-of-the-art way to experience the Big Game.
Enhancing Experiences With Next-Level Big Screen Technologies
Positioned 122 feet above the playing field, the 70,000 square-foot oval display features approximately 80 million pixels to enhance the in-stadium fan experience. Teams on the sidelines and fans in the crowd alike are able to watch 4K instant replays, up-close game action, game stats, interactive updates and more.
Samsung's advanced technology is bolstered by the largest graphics control system in the history of sports. Each LED panel can be uniquely or congruently programmed with statistics, live and animated content — and its unique size and shape make it wider than the field of play.
Delivering the best viewing angles for fans was one of Samsung's highest priorities. By using the measurements from architectural drawings of the stadium and simulating viewing angles on a test screen, Samsung designed the Infinity Screen to ensure that every seat in the stadium offers a great view of the videoboard. The display is also equipped with a state-of-the-art audio system with more than 260 individual JBL by Harman speakers embedded into its frame — equal to 1,500 home theater systems.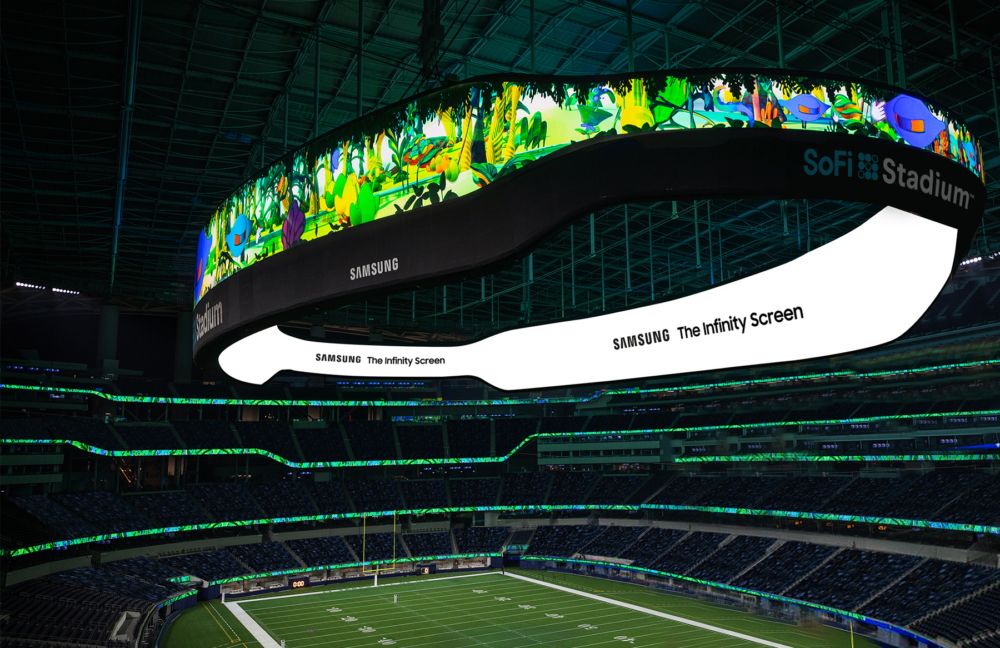 Immersive Entertainment for Every Fan
To offer fans and guests a consistently dynamic experience, Samsung also outfitted the stadium with other innovative solutions, including more than 2,600 large format displays, ribbon boards – long, thin LED screens mounted on the face of balconies — and audio equipment. No matter where fans are in the stadium, they won't miss the action on or off the field.
Every large format display at SoFi Stadium utilizes HDR10+, making the picture quality life-like and full of vibrant colors, sharper contrasts and crisper details. The same can be said for any fan who watches the game directly from a Samsung TV or compatible device at home. Thanks to HDR10+ technology, viewers can also enjoy the big game from the comfort of their couch, while still feeling that they're at the stadium itself.