doosan robotics
Doosan Robotics will participate in 'Automate 2022' of the U.S. to unveil cooperative robot services, manufacturing, and software solutions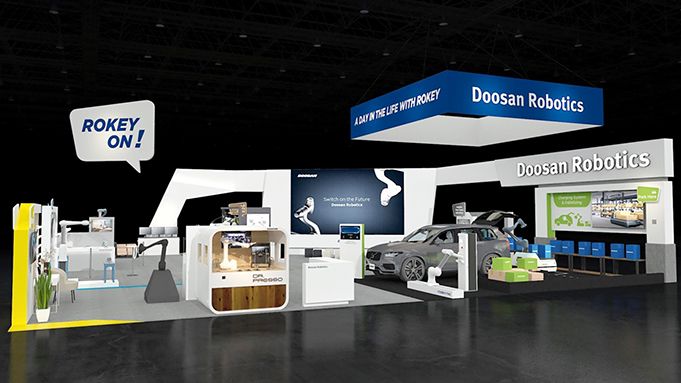 Doosan Robotics America Incorporates in Plano, Texas
Doosan Robotics participated in the largest automation technology solution exhibition in North America and introduced various cooperative robot solutions. On the other hand, it will enter the North American market in earnest by establishing a corporation in Texas, the United States.
Doosan Robotics will participate in the Automate 2022 to be held in Detroit from June 9th
"Automate" is North America's largest automation technology solution exhibition held once every two years, where global companies related to automation, robots, and motion control share products and solutions and form networks.
Doosan Robotics delivers cooperative robot solutions in the form of storytelling that are melted into the daily lives of Americans in their 50s working in auto parts factories under the theme of "Your Day with Cooperative Robot Rocky."
Loki is a word that refers to the entire cooperative robot of Doosan Robotics, and it means that cooperative robots are assistants and partners that allow people to focus on more valuable things by replacing 3D (Dangerous, Dirty, and Differential) and simple repetitive tasks.
In addition, Doosan Robotics will unveil three solutions, including services, manufacturing, and software using cooperative robots.
As a service solution, the unmanned modular robot cafe "DR.Presso" was introduced for the first time in the U.S. and a cinema booth was created using the camera robot "New Inspiration New Angle (NINA)." In addition, the serving robot will deliver coffee made by Dr. Preso to customers who visit the booth.
Manufacturing solutions include palletizing ▲ that stacks ▲ products on palettes and machine-tending ▲ inspection that puts in welding ▲ processing products and takes out finished products. This solution is characterized by detailed functions and implementation methods tailored to the demand of local customers in the U.
Software solutions include Dart Suite, and applications that utilize it include mobile teaching and voice recognition that manipulate cooperative robots on mobile phones. Dart Suite is an innovative software platform that can easily code functions necessary for operating cooperative robots or easily create and share them without coding in some cases, and plans to introduce the solution in this exhibition and release it in earnest in the second half.
Ryu Jung-hoon, CEO of Doosan Robotics, said, "We plan to actively promote Doosan Robotics' customized service, manufacturing, and software solution capabilities at this exhibition," and stressed, "We will lead the global cooperative robot market in the future by targeting the U.S. market."
Doosan Robotics established its U.S. subsidiary Doosan Robotics America in Plano, Texas, last month, and plans to establish a European subsidiary in the second half of this year.