samsung tv
[Interview] Exploring Innovation in 2022 Neo QLED 8K: Optimizing Picture Quality Through AI and Picture-Enhancing Technology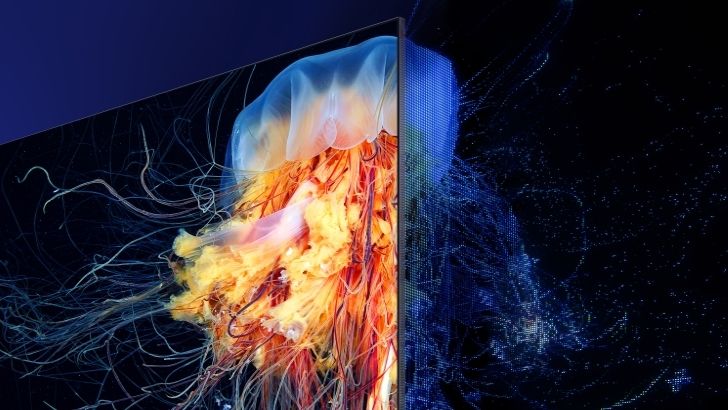 Samsung Electronics has been leading the TV industry for more than a decade with the latest technologies available on consumer TVs and screens. In 2022, Samsung has yet again secured the number one spot in terms of market share for 16 consecutive years.1 At the heart of Samsung screens is customer-centric innovation, which powers Samsung screens, including Neo QLED 8K, to deliver immaculate, true-to-life picture quality. Samsung Newsroom sat down with the engineers to provide a deep dive into the innovative features that make Neo QLED 8K the TV it is today, with next-level picture quality and one-of-a-kind features powered by artificial intelligence(AI).
▲ (From left to right) Engineers Younghoon Jeong, Younghun Jo at Hardware Platform Lab, Sangmin Lee, David Jung at Picture Quality Solution Lab of Samsung's Visual Display Business
Quantum Matrix Technology Pro Delivers Ultra-Fine Contrast With Details in Darkest Blacks and Lightest Whites
Samsung has continued to pave the way forward in innovation for picture quality by applying cutting-edge technologies to its latest TVs. The newly released Neo QLED 8K is an upgraded version of its previous QLED TV and comes with a wide range of innovative features. At the center of this advancement is Quantum Matrix Technology Pro, which takes advantage of the enhanced 14-bit gradation for greater control of the miniaturized light source — the Quantum Mini LEDs. This allows the TV to control its lighting across an astounding 16,384 steps, which is four times greater than conventional 12-bit displays at 4,096 steps, providing true-to-life colors previously unseen.
Shape Adaptive Light and Real Depth Enhancer Add Depth for Vivid, Lifelike Images
Newly introduced technologies, namely Shape Adaptive Light and Real Depth Enhancer, have taken the picture quality offered by Samsung TVs to new heights. These new features optimize contrast and produce clean and punchy images, adding a more realistic sense of depth to your screen.
Real Depth Enhancer improves picture quality by separating an object from a background. "Every image has an object and background with different requirements to bring out the optimal picture quality," said Jo. "Real Depth Enhancer separates the object from the background to enhance the contrast of the object, making it look clear. In doing so, we can clearly distinguish the object from the background, creating a greater sense of depth and making the images pop."
Shape Adaptive Light analyzes a scene and estimates the difference in the light layer by each section of a scene to control the light source. Shape Adaptive Light creates the effect of synergy with the latest Quantum Mini LED to precisely control and optimize the light source for an accurate contrast. "Simply put, it makes bright areas stay bright and the dark spaces around it stay dark. Additionally, the technology enables optimal contrast levels and allows details in the inkiest blacks, producing life-like picture quality," said Jo.
Upgraded Neural Quantum Processor Allows Customized AI Upscaling for Any Given Scene
Technological prowess has allowed us to enjoy 8K picture quality from the comfort of one's home. Although not all shows and movies are made in 8K, users are able to take full advantage of the latest TV tech Samsung has to offer. In fact, the real value of 8K TVs comes from Samsung's AI upscaling technology, which offers next-level picture quality by analyzing the image in real-time and upgrading it to higher picture quality or even 8K, regardless of the original image quality. Neo QLED 8K raised the number of neural networks from 16 to 20 to strengthen the capability for image analysis and upscaling. Multi-intelligent AI networks from the Neural Quantum Processor improve not only images, but also cloud games in 8K resolution for seamless and natural gameplay.
"As the number of networks has gone up, we were able to upscale a wider range of content to deliver a better viewing experience for users," said Jeong. "Samsung added neural networks to make the image of cloud games vivid and reduce noise. The neural networks immediately analyze a picture, optimize a network and upscale it to 8K so that users can enjoy a cleaner game image."
Jeong shared Samsung's ambition to provide a better viewing experience: "Samsung's multi-intelligence AI network is set up to continuously expand, delivering optimal picture quality technology according to a viewing environment and the latest content trends."
Samsung's 2022 QLED TVs, the World's First HDR Displays With 'Pantone Validated' Approval
Color is an important factor in evaluating a TV's picture quality. Samsung has achieved 100% color volume since 2017 and displayed accurate and vivid colors. Samsung's all-new 2022 QLED models, including Neo QLED 8K, became the world's first HDR displays with 'Pantone Validated' certification. Pantone specializes in color and provides a global color standard, PMS (Pantone Matching System). The certification means that Samsung's ability to accurately express colors is officially recognized. Neo QLED 8K was acknowledged for its accurate expression of 2,161 Pantone colors and 110 skin tone shades.
Pantone Validated certification suggests that the color expression of Neo QLED 8K is almost on par with the colors we are able to detect with our eyes," said Lee. "Technological advancements of Neo Quantum Processor, along with Quantum Dot material help our TVs accurately express more than 2,000 colors recognized by Pantone and also 110 skin tones, the most complicated and delicate colors.
Smart Calibration — Automatically Calibrate and Optimize Picture Quality in an Easy and Convenient way
Samsung has been providing industry-leading picture quality through technical innovation. A classic example is Smart Calibration, which is embedded in the latest TV models in 2022.
Smart Calibration enables anyone with a Samsung Neo QLED to calibrate their screen by simply using their smartphone.2 This allows users to calibrate their TVs for superb image quality through a simple step-by-step process with the Smart Calibration feature within the Smart Things app. All users have to do is open the Smart Calibration feature within the SmartThings app and point their smartphone camera towards the TV, the SmartThings app will then simplify the process to optimize picture quality. Users can choose between 'Basic Mode' and 'Professional Mode' according to how accurately they want to adjust picture quality. Basic Mode offers a quick calibration within 15 seconds, while Professional Mode optimizes more details of the picture and takes only 5-8 minutes to complete.
"Picture calibration normally requires expensive equipments, such as a measuring instrument and pattern generator. Smart Calibration enables users to adjust picture quality easily and conveniently with just their smartphone. Samsung developed this solution to help everyone easily calibrate their screens and enjoy accurate images," said Jung. "Professionals who work with colors like photographers tend to calibrate their devices quite frequently — once every three months or six months. While this isn't required for ordinary uses, it will be great for users to calibrate their screens using Smart Calibration when they first purchase the TV or when moving the TV to a different location."
Samsung Neo QLED 8K, the First TV To Receive 'Eye Care' Certificate by Top Global Certification Institutes
There is now more amazing content available via OTT services than ever before, and as a result, more and more people are spending their leisure time watching this content on TVs. Therefore, comfortable viewing experience is becoming an important factor influencing TV purchasing decisions.
The 2021 and 2022 Samsung QLED TVs, including Neo QLED 8K, won the 'Eye Care' certification from Verband Deutscher Elektrotechniker (VDE) in Germany, a test & certification association. This makes them among the first TVs to be awarded a certificate specific to eye care. VDE's 'Eye Care' certification includes 'Safety for Eyes', 'Gentle to the eyes', flicker level,3 uniformity4 and color fidelity5 assessments. 'Safety for Eyes' certification is assigned to products with the emission levels of blue light, ultraviolet rays and infrared rays that fall into the 'Exempt Group' according to the classification of emission limits set by the International Electrotechnical Commission (IEC).
'Gentle to the eyes' certification proves that the amount of melatonin suppression from a device meets the International Commission on Illumination (CIE) standard.
"As TVs become more of an entertainment hub in the home, there's an increased demand for screens with top-tier picture quality that minimize eye strain. A comfortable viewing experience is quickly becoming a key factor in purchasing decisions, in addition to picture quality and performance. Neo QLED 8K, with its 'Eye Care' certification, meets these criteria, offering more comfortable watching experience to users," said Jung.
Additionally, the Eye Comfort mode on Neo QLED 8K adjusts the screen's brightness. It limits blue light to provide a more pleasant viewing experience, all done automatically by the TV's Neural Quantum Processor. "AI technology automatically adjusts a screen's brightness and color temperature according to a viewing environment so that users can comfortably enjoy their favorite content on their TV," said Lee. "After sunset, you will see significantly warmer colors and reduced brightness, while during the daytime, the screen will be brighter and more vivid."
AI technology To Provide Perfect Viewing Experience With Minimal Effort From the Users' Side
As displays get larger and the technology for enhancing picture quality improves, so too does the standard for good picture quality. "The ultimate goal of advancing our technology in picture quality is to enable our TVs to automatically adjust their own picture quality to its optimal setting, producing a lifelike image. We will continue to develop cutting-edge technology to offer true-to-life picture quality to our consumers," said Lee.
"Our users' overall viewing experience is just as important as accurate color and sharpness," said Jo. This means it is essential to help users conveniently enjoy the best picture quality. "We consistently strive to create a viewing experience where users can simply enjoy content anywhere, in any environment. Samsung is committed to advancing AI technology to provide perfect picture quality with minimal effort from the users' side."