B&G Consulting
Launching a Black Hole Dotcom Site, a Job Seeker, and Job Seeking Platform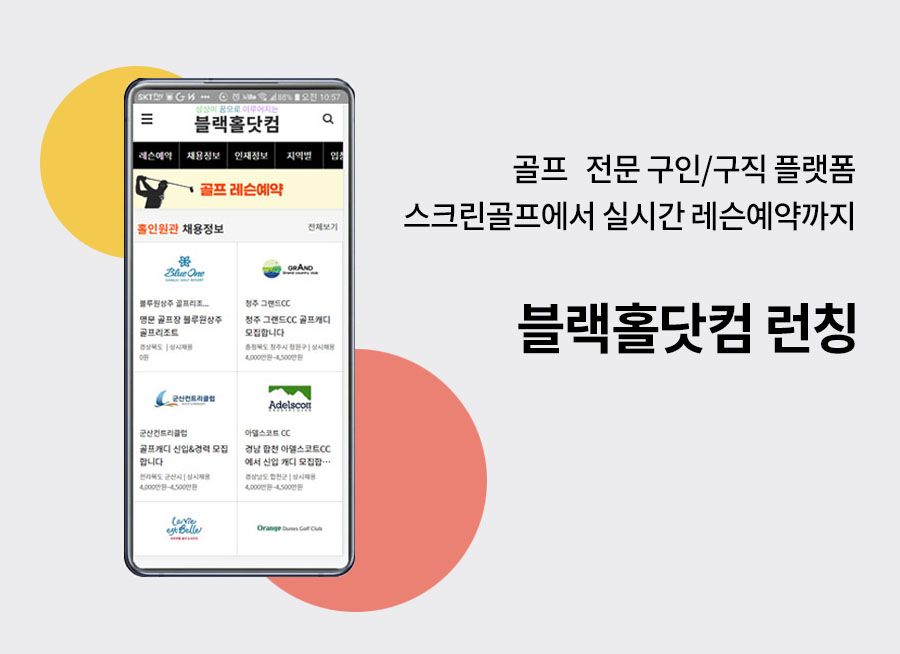 B&G Consulting Co., Ltd. will open a black hole dotcom site, a platform specializing in the golf industry that has been prepared since three years ago in line with the proposed bill applied to special employment positions in 2022.
It is a strong offline company that has been growing by supplying professionals needed for hotels and golf courses nationwide for decades.
It was recently launched to ease the difficulties of finding jobs and finding jobs needed for golf-related industries, Chung said.
Black hole dotcom was created based on offline-based industrial competition and operational know-how. Existing startups have entered online, but black hole dotcom is a platform that has grown online based on offline competitiveness. Last year alone, eight
What is the difference from major job sites in Korea? We only focus on one place in the golf industry
Currently, major domestic job sites are being serviced to accommodate talent from various industries. It is true that the provision of information on job search in each field is somewhat insufficient because of the strong nature of the "portal site." On the contrary, it focused only on the golf industry for the first time.
In line with the proposed special employment bill, Black Hole Dotcom will open Black Hole Dotcom, a website for the rights, interests and job hunting of professionals in the golf industry. "Blackhole Dotcom" avoided numerous information confusion and focused only on job search/job sites specializing in golf sports.
As a result of focusing only on the golf industry, "Blackhole Dotcom" can provide the manpower needed for the entire golf industry, and even real-time lessons for golfers who have begun to learn golf and who want to go up to the top. In order to enter golf or improve golf skills, a golf lesson relay (matching) service will also be launched at the same time, where teaching professionals come to places they want through real-time reservations called mobile.
Hasn't the golf industry weakened at the end of COVID-19?
The domestic golf industry after COVID-19 is expected to decline. However, CEO Jung Hae-young said through Black Hole Dotcom that there is a possibility of further growth.
We expect the domestic golf industry to fall due to golf travelers going abroad after the COVID-19 around us. However, with the new influx of MZ generation 2030, new golf populations are continuously flowing in. Even after COVID-19, golf courses are booming.
In the mid-2010s, the golf industry faced the overseas movement of the golf user population, and the aftermath of bleeding competition between companies led to worsening management and a sharp drop in sales. Currently, more than 500 golf courses nationwide are turning a blind eye to these past matters. In addition, you should watch and prepare from now on to see how the start of overseas travel, which has begun, will bring about changes in the golf industry. In addition, many changes in the golf industry are expected according to the response of each golf course to the increase in the golf population of the MZ generation.